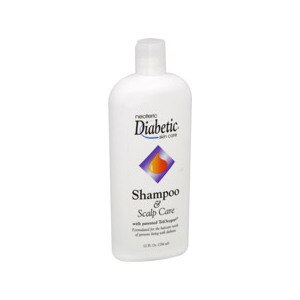 Neoteric Diabetic Skin Care Shampoo & Scalp Care
With patented trioxygen c. Formulated for the haircare needs of persons living with diabetes. Many diabetics have problems with their skin including their scalp. Neoteric Diabetic Shampoo & Scalp Care is formulated with tri-oxygen c, a patented oxygenated moisturizer. It helps to soothe the discomfort of dryness, flaking and itching of the scalp while gently cleansing the hair. Safe to use on all hair types. Neoteric Diabetic Shampoo & Scalp Care leaves hair clean, soft and manageable. Use daily for best results. For use by all ages.
Water, Sodium Laureth Sulfate, Acrylates Copolymer, Sodium Myristoyl Sarcosinate, Glycerin, Cocamidopropyl Betaine, Helianthus Annuus (Sunflower) Seed Oil, Peroxidized Corn Oil, Cocamide DEA, Wheat Germamidopropyldimonium Hydroxypropyl, Hydrolyzed Wheat Protein, Propylene Glycol, Diazolidinyl Urea, Methylparaben, Propylparaben, Fragrance, Xanthan, Sodium Hydroxide, Tetrasodium EDTA.
Wet scalp and hair. Apply shampoo to hair. Lather and massage into scalp. Rinse well. Repeat if needed.
Supervise children during use. Avoid contact with eyes. If product gets in eyes, rinse immediately with clean warm water.