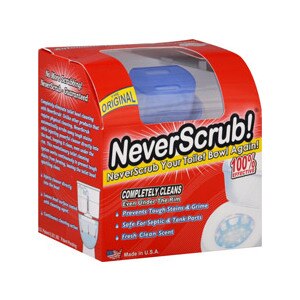 NeverScrub! Original Self Cleaning Toilet System
You May Also Like
Size: 1 EA
$4.49

Out of Stock
Never scrub your toilet bowl again! 100% effective. Completely cleans even under the rims. Prevents tough stains & grime; safe for septic & tank parts; fresh clean scent. Completely eliminate toilet bowl cleaning with NeverScrub! Unlike other products that require physical cleaning, NeverScrub automatically scrubs away tough stains while injecting powerful cleaner directly into the bowl, keeping it clean, even under the rim. This revolutionary toilet cleaning system works continuously to prevent tough stains from forming, leaving the toilet bowl sparkling clean. Inject cleaner directly into the bowl; leaves bowl surface coated with cleaning agent; continuous cleaning action. Cleans bowl up to 5 months. Includes: 1 cleaner. Refillable!
One Minute to Snap In: 1. Clip NeverScrub system on back of tank. 2. Attach blue tube to fill valve. 3. Place red tube in overflow pipe.
Contains 1, 3-Dichloro-5, 5 dimethylhydantoin. Avoid contact with eyes or skin or breathing of powder. If swallowed, give four glasses of water and get immediate medical attention. Do not induce vomiting. For eye contact, remove contact lenses and flush eyes thoroughly with water for 15 minutes. Get immediate medical attention. For skin contact, rinse skin with plenty of water and seek medical attention. For inhalation, remove person to fresh air. Call physician. Do not mix with other chemicals. Keep out of reach of children and pets. Bowl water not harmful to children or pets. However, it is not recommended pets regularly drink warm from toilet bowl.