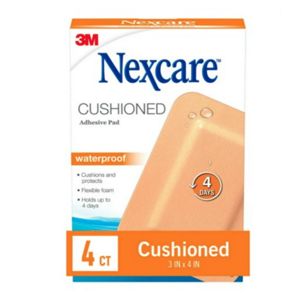 Nexcare Absolute Waterproof Adhesive Pads
3 x 4 inches. Pad Only: 1-9/16 inches x 2-5/8 inches. Sterile. Cushioned protection for sensitive wounds. Pad won't stick to wound. Latex free materials. Hypoallergenic. Ideal for: waterproof protection of wounds such as cuts, minor burns, abrasions and scrapes; sensitive wounds requiring additional cushioning. Features: waterproof; stays on in bath and shower; seals out dirt and germs; breathable - allows wound to breathe; absorbent non-stick pad wicks fluid away from the wound; can be worn for up to 4 days. Sterility guaranteed unless individual wrapper is opened or damaged. Made in USA.
1. Clean and dry wound and surrounding skin thoroughly. 2. Apply adhesive pad over wound. Do not stretch adhesive pad when applying. 3. Firmly smooth adhesive border to skin. For Removal: Gently lift an edge of the adhesive pad and slowly peel from the skin in the direction of hair growth. Change Adhesive Pad if: it begins to leak or is no longer sticking to skin; there are holes or tears in the adhesive pad.
If there are signs of infection such as fever, pain, redness, swelling, itching, rash or burning, consult a health care provider.