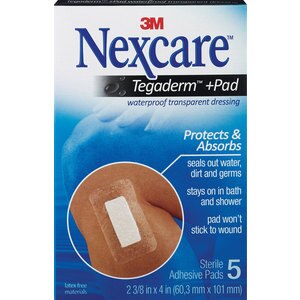 Nexcare Absolute Waterproof Premium Adhesive Pads 2-3/8 Inches X 4 Inches
2-3/8 inch x 4 inch. Breathable, keeps out dirt and germs. Waterproof in bath or shower. Non-stick pad with clear adhesive cover. Hospital proven. Nexcare Absolute Waterproof Premium Adhesive Pad is a waterproof dressing which consists of a non-stick, absorbent pad bonded to a larger thin film backing coated with a hypoallergenic, water resistant adhesive. Use Nexcare Absolute Waterproof Premium Adhesive Pad to protect wounds such as cuts, burns, abrasions and post-surgical incisions. Hospital Name: 3M Tegaderm Dressing Plus Pad. Hypoallergenic; Sterility guaranteed unless individual wrapper is opened or damaged. Made in USA.
1. Clean and dry wound and surrounding skin thoroughly. 2. Pull wrapper apart and remove the sterile dressing. 3. Peel the printed liner from the paper-framed dressing, exposing the adhesive surface. 4. Lay dressing over wound. Do not stretch the dressing when applying. Firmly smooth adhesive border to skin. 5. Remove the paper frame from the dressing while smoothing down the dressing edges. Removal: Gently lift the edge of the dressing and slowly peel from the skin in the direction of hair growth. Change the Dressing if: It begins to leak or is not longer sticking to the skin; There are holes in it; New skin has covered the wound's surface.
If there are any signs of infection such as fever, pain, redness, swelling, itching, rash or burning, consider consulting a health care provider.