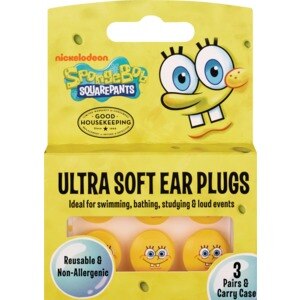 Nickelodeon SpongeBob Squarepants Ultra Soft Ear Plugs
SpongeBob
SQUAREPANTS

GOOD HOUSEKEEPING
Since 1909
LIMITED WARRANTY to CONSUMERS
REPLACEMENT or REFUND if DEFECTIVE

Ideal for swimming, bathing, studying & loud events

Reusable & Non-Allergenic

3 Pairs & Carry Case

� 2012 Viacom International Inc. All rights reserved. Nickelodeon, SpongeBob SquarePants and all related titles, logos and characters are trademarks of Viacom International Inc.

NW NORTHWEST"
The Northwest Company, LLC
Roslyn, NY 11576 USA
www.thenorthwest.com

Made in USA

Noise Reduction Rating
22 DECIBELS
(WHEN USED AS DIRECTED)

THE RANGE OF NOISE REDUCTION RATINGS FOR EXISTING HEARING PROTECTORS IS APPROXIMATELY 0 TO 30 (HIGHER NUMBERS DENOTE GREATER EFFECTIVENESS)

Federal law prohibits removal of this label prior to purchase.

EPA

LABEL REQUIRED BY U.S. E.P.A. REGULATION 40 CFR Part 211. Subpart B.

CE

Cirrus Healthcare Products LLC
P.O. Box 220, Cold Spring Harbor, NY 11724
Questions call: 1-800-327-6151

UK Address: 10 Crystal Business Centre
Ramsgate Road, Sandwich, Kent, CT 139QX
Product Type:

Earplugs

Quantity:

1-10 CT

Ship & Save:

Ship & Save Eligible

Concern:

Swimmer's Ear
Make sure area around ear opening is clean and dry. Place plug over ear opening and press gently until snug.
DO NOT push into ear canal because earplug may be difficult to remove. Use whole earplug. Use until dirty or stickiness is gone.
Warning: Suitable for children over 2 years old. Children should always be supervised by an adult. Earplugs are a small part and could represent a choking hazard to young children. Keep away from infants and small children because while non-toxic, these plugs are not edible. Never use for swimming at depths of more than 10 feet (3 meters) of water.