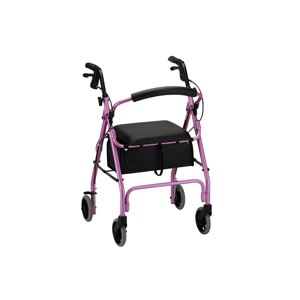 Nova GetGO Petite Rolling Walker, Pink
GetGo Petite Rolling Walker

The GetGo Petite, ideal for petite and slight users will get you on the go with great features at a very nice value.
Features:
Locking Hand Brakes
Large padded seat
Under seat pouch
Flip-up Back
6" Wheels
Weight Capacity: 300 lbs
Weight 12 lbs
Seat Height: 18"
Seat Dimensions: 13.75"w x 12.5"d
Handle Height Adjustments: 29" - 33"
Lock hand brakes before sitting and while seated. Seat is for stationary sitting only. Do not ambulate or use as a transport chair while seated. Do not use on stairs, escalators, or moving walkways. Backrest must be attached to the walker prior to opertating. Consult your user manual before operating.