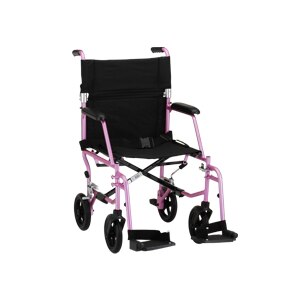 Nova Ultra Lightweight Transport with Offset Desk Arms, Pink
Ultra Lightweight Transport Chair with Offset Desk Arms

The Ultra Lightweight Transport Chair 18 in. 348R (Red) has a lightweight aluminum frame and padded upholstery. It is foldable and has a quick release fold-down back, as well as padded, fixed full-length arms and locking rear wheels.
Features:
Fixed, full-length arms
Carbon Steel Frame
Quick release fold-down back
Padded upholstery
Padded armrests
Locking rear wheels
Removable aluminum footrests
Non -skid foot plates & Heel loops
8" Wheels
Weight Capacity: 250 lbs
Weight: 18 lbs
eat Width: 18"
Lock wheel locks when sitting stationary. Do not use on stairs, escalators, or moving walkways. Consult your user manual before operating.