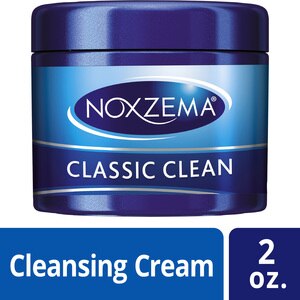 Noxzema Classic Clean Original Deep Cleansing Cream
Noxzema Original Deep Cleansing Cream gives you clean, smooth skin with the classic Noxzema tingle. It reaches deep into pores to remove dirt, oil, and makeup, leaving your skin soft and smooth. Noxzema Deep Cleansing Cream is dermatologist tested, made with eucalyptus, soybean, and linseed oils. Use it on wet or dry skin, massaging your face in a circular motion before rinsing thoroughly. Enjoy the same 12 ounces of invigorating Noxzema, now in a jar with 45 percent less plastic than before.
Water, Stearic Acid, Linum Usitatissimum (Linseed)Oil (Linseed), Glycine Soja Oil (Soybean), Fragrance, Propylene Glycol, Gelatin, Camphor, Ammonium Hydroxide, Eucalyptus Globulus (Eucalyptus) Leaf Oil, Calcium Hydroxide, Menthol, Sodium Bicarbonate (Baking Soda), Calcium Chloride, Magnesium Sulfate, Potassium Chloride
On a wet or dry face, apply generously. With fingertips or a wet washcloth, gently massage your face using a circular motion. Rinse thoroughly. Avoid direct contact with eyes.