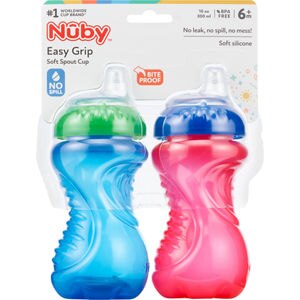 Nuby Soft Spout No-Spill Cups, 2-Pack
10 oz (295 ml) Vari-Flo valve allows child to control liquid's flow rate. Easy grip design makes it easy for a child's hands to hold. Built-in valve eliminates extra pieces to wash. Prevents spills & reduces leaks. Soft spout is delicate on baby's teeth and gums. With valveless no-spill soft silicone spout. Engineered to make feeding and handling easier, designed with two people in mind, the No-Spill Cup is perfect for beginners. Your little one will find the transition from bottle to cup an easy one with the cup's soft silicone spout and the unique contour shape that easily fits their small hands. You will be delighted with the transition thanks to Nuby's valveless, leak resistant design. Spout: The soft silicone spout (patent pending) is uniquely designed to prevent drips and spills. The unique soft silicone spout allows fluid to flow out of spout with sucking action of child. The silicone spout closes when sucking action ceases, ensuring a leak resistant cup, while being delicate and gentle to baby's gums and emerging teeth. Cup: Made from clear, break-resistant plastic. Microwave safe for warming fluid only. No-spill! No-mess! No-leak! Made in China to Luv n' care specifications.
Always warm fluids with cap and spout removed from cup. Use: Wash before initial use and after each subsequent use. Fill cup with liquid (about 3/4 full). Screw cap on tightly to guarantee seal. Cleaning: Dishwasher Safe (top rack only) or wash in warm water using mild liquid soap and rinse thoroughly with clean water.
Do not boil. To avoid possible injury, do not let child walk or run with cup. Cup spout is not intended to be used as a teether. Please do not allow your child to chew or teethe on the soft material of spout. To avoid possible injury do not let child chew or teethe on the soft material of spout as it may present a choking hazard. Check spout regularly for tears and replace cup as needed. Replacement spouts are available for purchase. Never use with carbonated beverages, as carbonation places product under pressure and may cause leakage. Never leave child unattended with this or any other infant product. Always test temperature of liquid before feeding to baby.