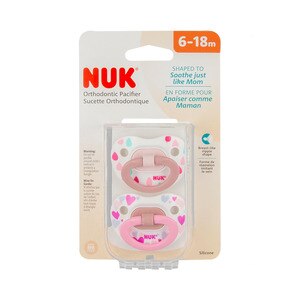 Nuk Trendline Orthodontic Pacifier 6+ Months
BPA free. No. 1 selling pacifier brand. Promotes healthy oral development. Nuk Air System. Nuk natural shape nipple promotes healthy oral development. Nuk pacifiers are based on the shape of a mother's nipple while breastfeeding and are therefore optimally adapted to the baby's oral cavity. The orthodontic design gently exercises the tongue, palate and jaw and encourages the correct development or your child's teeth. www.NUK-USA.com. Assembled in USA. Nipple made in Germany.
Care: Prior to the first use, sanitize by boiling in water for 5 minutes. For day to day cleaning, wash with hot water and mild detergent then rinse clean. Dishwasher-safe (top rack). The Nuk Air System may allow water to get inside the nipple during cleaning. Simply squeeze the nipple to press out any water that is inside. For hygiene and safety replace the pacifier after about 2 months of use. Safety instructions inside.
Do not tie pacifier around child's neck as it presents a strangulation danger. To prevent possible choking hazard, test strength before each use by pulling the nipple in all directions. Any tear can lead to the separation of pieces. Discontinue use if any tear or crack appears. Do not attach ribbons or cords through ventilation holes. Do not leave baby unattended while using a pacifier. Note: If the pacifier becomes lodged in the mouth, remove it as gently as possible. It is designed so that it cannot be swallowed.