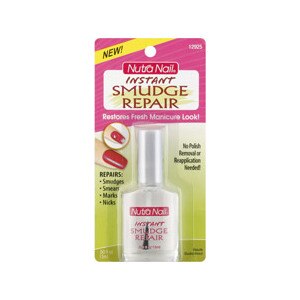 Nutra Nail Instant Smudge Repair
Restores fresh manicure look! No polish removal or reapplication needed! Repairs: smudges; smears; marks; nicks. Problem: Smudges, smears, marks and nicks in color polish. Solution: Nutra Nail Instant Smudge Repair. What it Does: Repairing smudged, nicked, smeared or dented polish is a snap with this unique Smudge Repair formula. Just brush over manicure to instantly restore your polish to a smooth, shiny finish - without removal or reapplication of polish. Results: Smooth, shiny manicures that are smudge-free, nick-free and mistake-free. No formaldehyde, toluene & DBP.
Acetone, Ethyl Acetate, MEK, N-Butyl Alcohol Cellulose Acetate Butyrate, Isopropyl Alcohol Phthalic Anhydride/Trimellitic Anhydride/Glycols Copolymer, Trimethyl Pentanyl Diisobutyrate, Butyl Acetate.
For small nicks and smudges, gentry brush Smudge Repair over wet nail polish until they disappear. For large nicks and smudges, place a tiny drop of color polish in center of nick. Gently brush Smudge Repair over entire nail until smooth.
For external use only. Flammable - keep away from flame or heat.