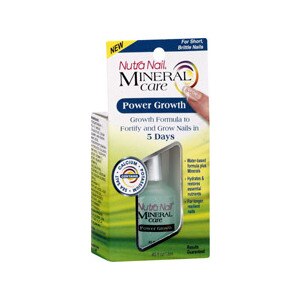 Nutra Nail Power Growth for Short Brittle Nails
Growth formula to fortify and grow nails in 5 days. Water-based formula plus minerals. Hydrates & restores essential nutrients. For longer, resilient nails. Contains: Calcium; Potassium; Sea salt. Problem: Short, brittle, dehydrated nails that just won't grow long. Solution: Mineralize your nails with new Nutra Nail Mineral Care Power Growth. Results: Longer, beautiful, resilient nails in just 5 days. What is Does: Nutra Nail has added calcium, potassium and sea salt, essentials from nature to this unique growth formula. It goes on clear and instantly infuses short, dehydrated nail with all they need to help them grow long and beautiful. Plus this water-based formula hydrates nails to the optimal condition for growth. Short, brittle nails are fortified and longer in just 5 days! Get the long, beautiful nails you've dreamed of with Nutra Nail Mineral Care Power Growth. No formaldehyde, toluene & DBP. Manufactured in the USA.
Polyquaternium-11, PEG-75 Lanolin, TEA-Salicylate, Serum Albumin, Hair Keratin Amino Acids, Hydroxypropyltrimonium Hydrolyzed Collagen, Panthenol, Tocopheryl Acetate (Vitamin E), Retinyl Palmitate (Vitamin A), Cholecalciferol, Octoxynol-9, Disodium EDTA, Calcium Chloride, Corn Oil, Quaternium-15, Propylene Glycol, Aloe Barbandensis Gel, Potassium Chloride, Diazolidinyl Urea, Methylparaben, Propylparaben, Hydrogen Peroxide, Sodium Chloride, Sea Salts, FD&C Blue No. 1, FD&C Yellow No. 5.
Apply over entire bare nail, cuticle and under nail tip. Massage into nails and cuticles for 5 seconds. For best results, use twice daily. Use with or without nail color.
For external use only. Flammable - Keep away from flame or heat.