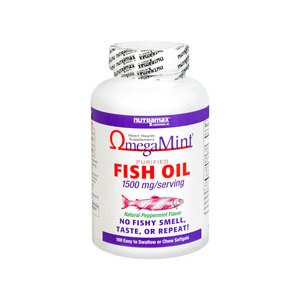 Nutramax Omega Mint Fish Oil 1750 mg Chewable Softgels
Fish Oil (Salmon, Sardines, Anchovies), Gelatin, Glycerin, USP Purified Water, Natural Peppermint Oil, D-Alpha Tocopherol (Preservative). Contains Soy.
At risk for coronary heart disease: 5 softgels, once daily. General heart health supplement: 2 softgels, once daily.
Keep out of reach of children, out of direct sunlight. Keep in a cool, dry place and keep lid tightly closed.