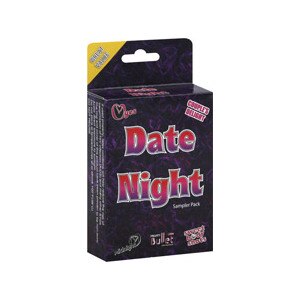 O Yes Date Night Sampler Pack
Great value. Couple's delight. Midnight. Mighty Bullet Mini-Massager. Sweet Body Shots. If used properly, latex condoms will help reduce the risk of transmission of HIV infection (AIDS) and many other STDs. The ring and cover of this product have been proven to be non-toxic. Whether it's a honeymoon or anniversary, weekend get-away or just a special night out, the O Yes Date Night Sampler Pack can make any night the perfect date night. This all-in-one sampler pack contains all the ingredients necessary to delight that special someone. You'll find: one Midnight O Black disposable vibrating ring; one Mighty Bullet powerful mini-massager; six different flavor pouches of Sweet Body Shots cocktail-inspired personal lubricant; two latex condoms. Sweet Body Shots Flavors: butterscotch ripple; strawberry margarita; cosmo; pina colada; appletini; peach on the beach. Made in China.
Purified Water, Propylene Glycol, Methyl Paraben, Propyl Paraben, Glycerine, Dimethicone Copolyol, Glyceryl Polymethacrylate, Hydroxyethyl Cellulose, Vitamin E, and Artificial Colors and Flavors.
Avoid direct exposure to sunlight. Do not store at temperatures at or above 100 degrees F (38 degrees C). Do not reuse.