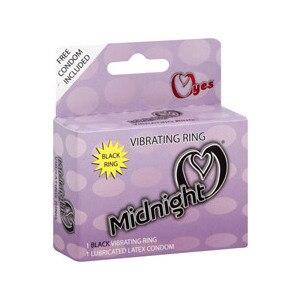 O Yes Midnight O Vibrating Condom Ring
1 black vibrating ring; 1 lubricated latex condom. Free condom included. Black ring. If used properly, latex condoms will help reduce the risk of transmission of HIV infection (AIDS) and many other STDs. Say O Yes to the Midnight O Vibrating Ring Made of super-soft silicone, the Midnight O vibrating ring is specifically designed to heighten pleasure. The ultra-light batteries and 12,000 RPM motor are sealed safely inside a silicone shell. Main Features: Stimulating pleasure knobs; Long battery life, up to 30 minutes; Easy on/off switch; Can be used with or without a condom. When using with a condom be sure to place the condom on first. The ring and cover of this product are made of super soft silicone gel and have been proven to be non-toxic. CE listed. Made in China.
For sanitary reasons, properly discard entire contents after use. Do not reuse. Avoid direct exposure to sunlight and do not store at temperatures at or above 100 degrees F(38 degrees C).
To avoid injury or aggravation of pre-existing conditions, this product should not be used on swollen or inflamed areas or if skin lacerations are present. Allergy: The included condom contains natural rubber latex Keep out of reach of children. This product intended for adult use only. This product sold as a novelty toy.