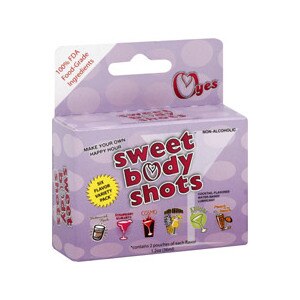 O Yes Sweet Body Shots Cocktail-Flavored Lubricant Pouches Variety Pack
Butterscotch Ripple; Strawberry Margarita; Cosmo; Pina Colada; Appletini; Peach on the Beach. Six flavor variety pack (Contains 2 pouches of each flavor). Make your own happy hour. Non-alcoholic. 100% FDA food-grade ingredients. Make your own happy hour with Sweet Body Shots cocktail-inspired personal lubricant. Each of the 12 individually sealed pouches contains a non-alcoholic water-based, cocktail-flavored lubricant designed to add a little flavor to your sex life. Compatible with latex condoms. Made in the USA.
Purified Water, Propylene Glycol, Methyl Paraben, Propyl Paraben, Glycerine, Dimethicone Copolyol, Glyceryl Polymethacrylate, Hydroxyethyl Cellulose, Vitamin E, and Artificial Colors and Flavors.
Apply desired amount of lubricant to desired areas. When using with a condom, place a few drops inside on the tip before putting the condom on. Additional lubricant can then be used on the outside surface.
If irritation or discomfort occurs, discontinue use and wash the area with cold water. If irritation persists, consult a physician immediately.