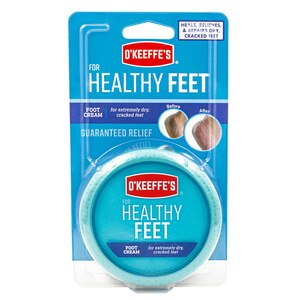 O'Keeffe's for Healthy Feet Foot Cream for Dry Feet That Crack & Split
Guaranteed relief for dry feet that crack & split. Absolutely odorless. Non-greasy. Daily foot cream for a life of healthy feet. O'Keeffe's for Healthy Feet is a highly effective moisturizer for severely dry feet that frequently crack and split. The odorless, concentrated formula naturally hydrates the skin, adjusting the pH balance and helping to retain moisture. Creating a difference you feel within days. Safe and effective for people with diabetes. Endorsed and recommended by: Handyman member tested and recommended; American Podiatric Medical Association accepted; National Health & Wellness Club member tested and recommended. www.OKeeffesCompany.com. Unconditionally guaranteed. Please recycle packaging. Made in USA.
Water, Glycerin, Stearic Acid, Ammonium Stearate, Ammonium Borate, Dimethicone, Ceteth-10, Laureth-4, Paraffin, Hydroxypropyl Methylcellulose, Allantoin, Octyldodecyl Stearate, Diazolidinyl Urea, Iodopropynyl Butylcarbamate.
Apply sparingly to exfoliated skin at bedtime and after shower or bath. Nighttime use is highly recommended as this is the most effective time for moisturizing extremely dry skin. Mild stinging of severely dry skin is normal. Discontinue if you experience excessive stinging or if stinging persists.