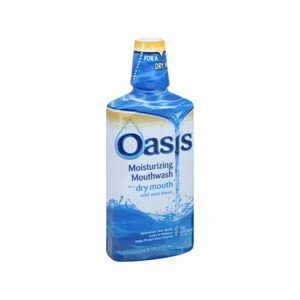 Oasis Moisturizing Mouthwash for a Dry Mouth Mild Mint Flavor
Moisturizes your mouth. Locks in moisture. Helps protect from dryness. TriHydra technology. Oasis moisturizing mouthwash offers the benefits of a regular mouthwash in a gentle alcohol-free formulation. Rather than containing alcohol that can leave your mouth dry, Oasis mouthwash moisturizes your mouth and helps protect it from drying out. Oasis moisturizing mouthwash has been specially designed for when your mouth feels parched or dry. It leaves your mouth feeling comfortable and your breath fresh. Fights bad breath. PH balanced. Alcohol free. Lasts for up to 2 hours (can leave your mouth feeling hydrated for up to 2 hours). Made in Mexico.
Water, Glycerin, Sorbitol, Poloxamer 338, PEG-60 Hydrogenated Castor Oil, Carboxymethylcellulose, Cetylpyridinium Chloride, Copovidone, Disodium Phosphate, Flavor (Peppermint and Spearmint), Methylparaben, Propylparaben, Sodium Benzoate, Sodium Phosphate, Sodium Saccharin, Xanthan Gum, FD&C Blue 1.
Rinse for 30 seconds with one ounce of mouthwash first thing in the morning and before going to bed or as needed. Do not swallow. Use as part of an effective oral hygiene program. Store below 86 degrees F (30 degrees C).
Keep out of the reach of children. Not harmful if accidentally swallowed. If your feeling of a mouth dryness persists, consult a health care professional. Do not use if printed shrink sleeve is missing or broken above the neckband perforation.