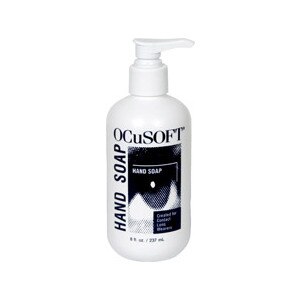 Created for contact lens wearers. OCuSOFT Hand Soap is designed specifically for contact lens wearers to thoroughly cleanse hands prior to lens handling or insertion. Reduces potential for contamination to lenses and eyes. Contains no oil or perfume found in ordinary hand soaps that can leave residue on hands and irritate eyes.
Amphoteric Surfactants in an Aqueous Solution, 0.5% Chloroxylenol.
Apply a small amount to wet hands and work up a rich lather. Rinse thoroughly before handling lenses.