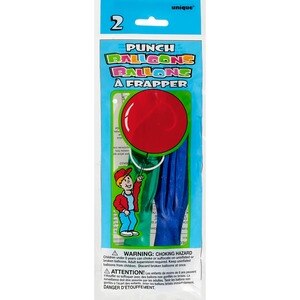 Omni Party Neon Punch Ball Balloons
1. Loop the rubber band around the tip of the uninflated Punch Ball and draw tight. 2. Inflate Punch Ball to 14 inches. Do not inflate over 16 inches as it may burst. (Smaller size give better results). 3. After inflation roll neck tightly down to the wide part of the neck. Then insert the roll neck into the ball. Now you're ready to go! Loop the rubber band around your middle finger - make a fist and start punching! Do not over-inflate. Stretch balloons before inflating.
Choking Hazard - Children under 8 years can choke or suffocate on uninflated or broken balloons. Adult supervision is required. Keep uninflated balloons from children. Discard broken balloons at once.