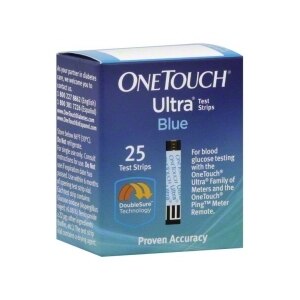 OneTouch® Ultra® Blue Blood Glucose Test Strips, 25CT
Proven accuracy. DoubleSure technology. For blood glucose testing with the OneTouch Ultra family of meters and the OneTouch Ping meter remote. DoubleSure technology automatically checks each sample twice to confirm the result. Requires just a speck of blood. Covered at the lowest co-pay on the most health plans. For blood glucose testing with these OneTouch Ultra Meters: OneTouch Ultra 2; OneTouch UltraSmart; OneTouch Ping; OneTouch Ultra; OneTouch UltraLink; OneTouch UltraMini.
This item is FSA (Flexible Spending Account) eligible.
Ship & Save:

Ship & Save Eligible
Each OneTouch Ultra Test Strip Contains: Glucose Oxidase (Greater than 0.8 IU), Ferricyanide (Greater than 22 ug). Other Ingredients: (Buffer, Etc). The Vial Contains a Drying Agent.
Read package insert before using this product. Store at temperatures under 86 degrees F (30 degrees C). Do not refrigerate. Do not use if expiration date has passed. Use within 3 months of opening test strip vial.
Do not use if glued seals are broken.