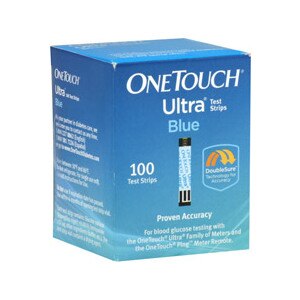 OneTouch® Ultra® Blue Blood Glucose Test Strips
DoubleSure technology for accuracy. Proven accuracy. For blood glucose testing with the OneTouch Ultra Family of Meters and the OneTouch Ping Meter Remote. DoubleSure double checks each result for accuracy. Requires just a speck of blood. Covered at the lowest co-pay on the most health plans. In vitro diagnostic. For self-testing. 4 vials of 25 test strips. The test strip vial contains a drying agent. Made in UK.
Each Test Strip Contains: Glucose Oxidase (Aspergillus Niger) Greater than or Equal to 0.08 IU; Ferricyanide Greater than or Equal to 22 mcg; Other Ingredients (Buffer, Etc.).
Store between 30 and 86 degrees F. Do not refrigerate. For single use only. Consult instructions for use.
Do not use if expiration date has passed. Use within 6 months of opening test strip vial.