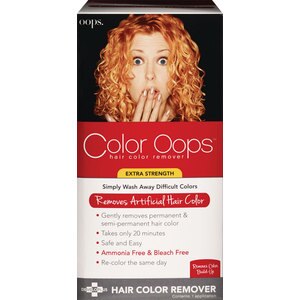 Takes you back to your original color. Gently removes permanent & semi-permanent hair color. Takes only 20 minutes. Safe and easy. Ammonia free/Bleach free. Re-color the same day. Color Oops! is a safe and effective way to remove unwanted hair color in just 20 minutes. Color Oops! reverses the hair coloring process by shrinking down the hair color molecule so small that it simply washes away. Color Oops! is bleach and ammonia free and will not have the same damaging effects as bleach or ammonia based products. Color Oops! Selector: Extra Strength (Over 48 hrs) - For removal of hair coloring beyond 48 hours. Since some permanent hair coloring lightens hair during the coloring process, removal of artificial coloring may not restore your hair to its original, natural shade. Color Oops will restore your hair color to its lightest shade, regardless if it is natural or artificial. Product not tested on animals. Made in U.S.A.
Product Type:

Color Remover

Ship & Save:

Ship & Save Eligible
Part 1: Deionized Water, Hydrosulfite, Fragrance, Polysorobate-80, Hydroxyethylcellulose, Cocamidopropylhydroxysultaine. Part 2: Deionized Water, Citric Acid, Cocamidopropylhydroxysultaine, Xanthan Gum.
Patch Test Recommended: Apply mixture of equal parts 1 and 2 on a small cleansed area behind the ear or fold of the elbow. Remove after 24 hours with soap and water or immediately if irritation occurs. If irritation is apparent, do not proceed with application! Do not use on eyebrows or eyelashes. If contact with eyes should occur, rinse thoroughly with water and contact a physician.
This product contains ingredients which may cause skin irritation on certain individuals. A preliminary patch test according to the accompanying directions should first be made. Avoid contact with eyes. If contact with eyes should occur, rinse thoroughly with water and consult a physician. This product must not be used on eyelashes or eyebrows. To do so may cause blindness. Not to be taken internally. Keep out of reach of children.