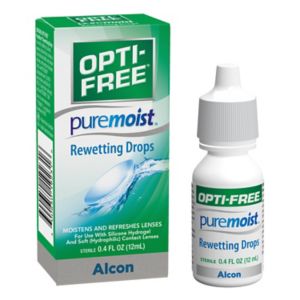 Opti-Free Pure Moist Rewetting Drops
For use with silicone hydrogel and soft (hydrophilic) contact lenses. Sterile. Works during lens wear to moisturize your eyes and lenses. Opti-Free PureMoist Rewetting Drops moistens and refreshes your lenses for greater wearing comfort. It also helps remove particulate material that may cause minor irritation, discomfort, dryness, blurring and itchiness while wearing your lenses. Only Opti-Free PureMoist Rewetting Drops contains patented RLM-100, which helps prevent protein deposit buildup on soft (hydrophilic) lenses while you wear them, when used as directed.
Opti-Free PureMoist Rewetting Drops is a Sterile, Buffered, Isotonic, Aqueous Solution That Contains a Citrate/Borate Buffer and Sodium Chloride, with Edetate Disodium 0.05% and Polyquad (Polyquaternium-1) 0.001% Preservatives and RLM-100 (PEG-11 Lauryl Ether Carboxylic Acid) and Tetronic 1304 (Tetronic = Registered trademark of BASF).
To Refresh Lenses: If minor irritation, discomfort or blurring occur while wearing lenses, place two drops in each eye and blink 2-3 times. Use as needed throughout the day while wearing lenses. To Help Prevent Protein Buildup on your Soft Lenses: Place 2 drops in each eye and blink 2-3 times, 4 times daily. Store at room temperature.
To avoid contamination, do not touch dropper to any surface. Replace cap after use. See package insert for complete directions for use and important safety information. Tamper Evident: For your protection, this bottle has an imprinted seal around the neck. Do not use if seal is damaged or missing at time of purchase.