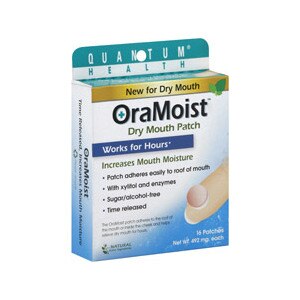 OraMoist Dry Mouth Disc Natural Fruit Flavor
New for dry mouth. Works for hours (Once the OraMoist patch adheres, It slowly dissolves, releasing ingredients that moisten the mouth. In most cases, the patch fully dissolves in 2-4 hours, but some people report that It lasts overnight). Increases mouth moisture. Patch adheres easily to roof of mouth. With xylitol and enzymes. Sugar/alcohol-free. Time released. The OraMoist patch adheres to the roof of the mouth or Inside the cheek and helps relieve dry mouth for hours. With natural active ingredients. Time released, increases mouth moisture. The OraMoist Dry Mouth Patch adheres comfortably to the roof of the mouth. Clinically tested, works for hours! OraMoist is a unique oral patch that adheres to the roof of the mouth (or any soft tissue in the mouth) and moisturizes the mouth for hours. OraMoist has been specially developed to alleviate parched dry mouths, moisten the mouth, and improve general oral health. No sugar, glucose, or preservatives. Harnessing the power of natural ingredients.
Xylitol, Polyvinyl Pyrrolidone, Carbomer, Lemon Flavor, Citric Acid, Calcium Carbonate, Hydroxypropyl Cellulose, Triglycerides, Sodium Chloride, Silicon Dioxide, Magnesium Stearate, Annatto, Glucose Oxidase, Lysozyme, Lactoferrin.
Place the OraMoist patch on a clean, dry finger with the convex or round pink side up. Place the pink side on either side of the roof of the mouth (palate) halfway Pack and hold in place for 10 seconds. The patch will adhere to the palate for 2-4 hours and then dissolve, OraMoist increases mouth moisture, alleviates the feeling of dry mouth, and locks in moisture. If using more than three a day, change the position of the patch in the mouth. Alternate Application/Denture Wearers: The patch may be applied to any soft tissue inside the mouth such as the inside of the cheek. Do not attach to dentures or appliances. Do not store in excessive heat.
Do not use on children under 5 years old without consulting a physician. If swelling or rash develops where the patch Is attached to the mouth, discontinue use. If rash worsens, consult a health professional. Keep out of reach of children.