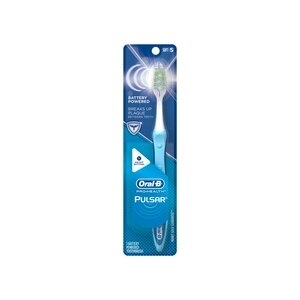 Oral-B Pulsar Toothbrush Soft Regular
Pivots; Pulses. Vibrating MicroPulse bristles. A clean you can feel. Cleans better than the leading manual or battery brush. Pivots and pulses. Removes as much plaque as floss. Flexible MicroPulse Bristles: Pivot back and forth to penetrate deeper between teeth (vs. leading manual brushes). Gently pulse to lift up food and plaque and stimulate gums. Fully disposable - No need to change any parts. Includes 1 non-replaceable Duracell battery. Product is not designed to be opened.
Brush as you would with a manual brush.