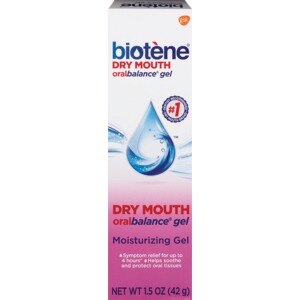 Oralbalance Dry Mouth Moisturizing Gel
The long lasting oral lubricant for dry mouth relief. Long lasting formula! Soothes & protects oral tissues. Love your mouth. World's No. 1 dry mouth relief & protection. Contains Bio-Active Enzymes: To inhibit harmful odor-causing bacteria and maintain a healthy, balanced oral environment. Beneficial to Individuals Experiencing Dry Mouth Caused by: Diabetes; Medications; Stress & depression; Drug/radiation therapies; Sjogren's syndrome. Long-lasting relief. Light pleasant taste. Sugar-free. Help with swallowing. Oralbalance long lasting lubricant soothes and protects dry mouth tissues against minor irritations, sensitivity and burning sensations. Promotes oral healing. Naturally sweetened with Xylitol. Made in USA.
Product Type:

Mouth Moisturizing Gel, Dry Mouth

Formulation:

Gel

Quantity:

0-5 OZ

Ship & Save:

Ship & Save Eligible
Hydrogenated Starch Hydrolysate, Glyceryl Polymethacrylate, Xylitol, Hydroxyethyl Cellulose, Beta-D-Glucose, Lactoperoxidase, Lysozyme, Lactoferrin, Glucose Oxidase, Potassium Thiocyanate, Aloe Vera.
Apply Oralbalance Mouth Moisturizing Gel as often as needed for relief, especially at night or as directed by your dentist or physician. Place approximately a half inch length onto tongue and spread thoroughly. Effectively helps denture wearers and mouth breathers. Note: Should be used after rinsing mouth. If condition persists, consult a physician.
Should symptoms persist, consult a physician. Keep out of reach of children.