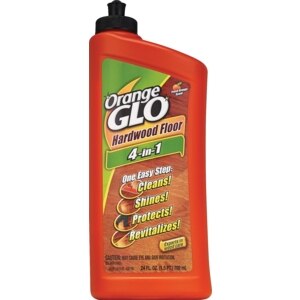 Orange Glow Fresh Orange Scent 4-in-1 Hardwood Floor Cleaner
One Easy Step: Cleans! Shines! Protects! Revitalizes! Experts in wood care. Orange Glo 4-in-1: Use up to once a month to revitalize hardwood floors by cleaning away dirt and grime, filling in scratches, protecting floors from water damage, and leaving a long-lasting, brilliant shine! Great for homes with pets and lots of foot traffic. Bring out the natural beauty in your hardwood floors! Phosphate free. For more wood care tips, visit www.woodfloorcare.com.
Read entire back panel before using product. Do not shake. Rock gently before use: Remove loose dirt from floor by dust mopping, sweeping or vacuuming. 1. Squirt 4-in-1 in an s pattern directly onto 4 x 4 foot area of floor. 2. Immediately spread with clean, damp mop in long, even strokes following grain of wood. 3. Move to next area and repeat. Rinse mop if it becomes soiled during application. Floor will dry to a brilliant shine in less than 15 minutes, although individual drying times may vary. For very dirty floors, we recommend using an oil-free cleaner such as Orange Glo Everyday Cleaner prior to applying Orange Glo 4-in-1; ensure floor is completely dry before proceeding. For best results, use Orange Glo Cleaning Pad for easier application and more effective cleaning than ordinary mops and wipes. Orange Glo Cleaning Pad is available online at www.greatcleaners.com. Test first in an inconspicuous area and allow to dry 15 minutes before first use. Wait at least 12 hours for Orange Glo 4-in-1 to dry before using any cleaner. Do not walk on floor if surface is still wet or tacky. Orange Glo 4-in-1 is not for use on laminate or unsealed, unfinished, waxed or oiled wood floors, or on severely worn floors. Do not apply any polyurethane coatings directly to floor that has been treated with Orange Glo 4-in-1; thoroughly remove with a stripping product prior to using a refinisher. Orange Glo 4-in-1 should be removed when there is build-up: mix 1 cup ammonia in 1/2 gallon of warm water. Rinse with clean water and mop dry.
May cause eye and skin irritation. May cause eye or skin irritation. If in eye or on skin, rinse thoroughly with water. If contact lenses present, remove lens and continue washing. See physician if irritation persists. If swallowed drink a glass of water and get medical attention. Contains solvents, plasticizers and wax emulsions. Keep out of reach of children.