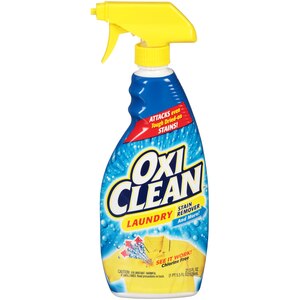 Oxiclean Laundry Stain Remover
Fast acting! Chlorine free. Now better on: grease; grass. See it work! OxiClean Laundry Stain Remover gets out your toughest laundry stains and odors, such as wine, blood, dirt, tomato, grass and even set in stains. This unique formula starts to work before your eyes. OxiClean is a multi-purpose stain remover that can be used to remove though stains throughout your home. It is chlorine-free and color-safe. Contains hydrogen peroxide. Made in USA.
Remove as much of the excess stain as possible. Laundry: 1. Spray directly onto spot or stain until saturated. 2. Rub into fabric and let stand for 5-10 minutes. 3. Wash with your normal detergent. Upholstery: Use only on water-washable upholstery. Do not spray directly on stain. 1. Spray on clean white towel and use towel to blot out stain. 2. Dampen a clean white towel with water and blot area to rinse. Kitchen/Bathroom: 1. Spray on soiled area and wipe clean. Rinse if necessary. For baked on grease or thick soap film, wait several minutes before wiping. Usage Guidelines: Test first in an inconspicuous area. Do not use on wool, wool blends, silk, silk blends, leather and fabrics labeled dry clean only. For best results, treat stains while still fresh. Some stains may require additional treatments. Always follow manufacturers guidelines for item being cleaned.
Harmful if swallowed. As with all cleaning products, keep out of reach of children and pets. Not recommended for use on khaki, fluorescent clothing or washable silk. Avoid prolonged contact with painted surfaces and do not store on warm surfaces. Avoid contact with eyes and mucous membranes or extended contact with skin. In case of eye contact, flush eyes with water for 15 minutes. Seek medical attention immediately. For skin contact, rinse skin with water. If swallowed, drink a glassful of water. Do not induce vomiting. Seek medical attention immediately. Contains: Hydrogen Peroxide.