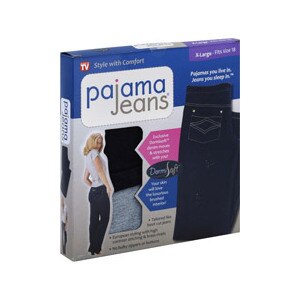 Pajama Jeans X-Large Size 18
Fits size 18. Style with comfort. Pajamas you live in. Jeans you sleep in. As seen on TV. Exclusive Dormisoft denim moves & stretches with you! Your skin will love the luxurious brushed interior! Tailored like boot cut jeans. European styling with high contrast stitching & brass rivets. No bulky zippers or buttons. So cute and so comfortable, Pajama Jeans are the best of both worlds. Great for travel or everyday wear, they're made of our exclusive and innovative denim fabric called Dormisoft. It's super soft and stretchy, giving you an unbelievably comfortable pair of jeans that you'll love wearing out - or wearing to bed. Made in China.
Sizing Chart: X-Small (Fits Size 4): 28 inch waist, 35.5 inch hips. Small (Fits Size 6-8): 30 inch waist, 37.5 inch hips. Medium (Fits Size 10-12): 32 inch waist, 39.5 inch hips. Large (Fits Size 14-16): 35 inch waist, 42.5 inch hips. X-Large (Fits Size 18): 38 inch waist, 45.5 inch hips. 1X (Fits Size 20): 41 inch waist, 49 inch hips. 2X (Fits Size 22-24): 45 inch waist, 53 inch hips. 3X (Fits Size 26-28): 49 inch waist, 57 inch hips. Inseam Length: 31 inches, all sizes.