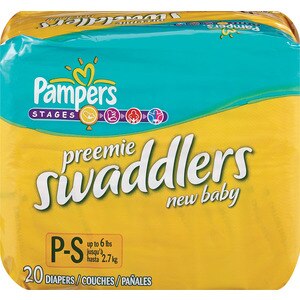 Pampers Premies Diapers Size P Up To 5 Lbs
A diaper specially designed for premature infants.
To avoid danger of suffocation, keep this plastic bag away from babies and children. Do not place in cribs, beds, carriages or playpens. Pampers, like almost any article of clothing, will burn if exposed to flame. To avoid risk of choking on plastic or padding, do not allow baby to tear the diaper. Choking may result from anything babies might put in their mouths. Discard any diaper which has become torn or unsealed. Please discard in waste receptacle. Do not flush diaper.