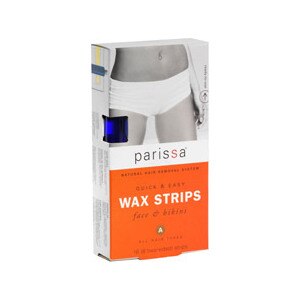 Parissa Quick And Easy Wax Strips Face And Bikini
Natural hair removal system. Quick and easy. Smooth skin. Clean and simple. Zip away hair fast and easily right from the root. Our ready-to-use wax strips are ideal for beginners and travel, keeping skin smooth up to 8 weeks. Kit Contains: 16 (8 double-sided) strips and Azulene Oil. Not tested on animals.
Wax: Pine Resin and Mineral Plasticizers. Azulene Oil: IPM, Vitamin E, Azulene (Chamomile Extract), Menthol, BHT.
2 Easy Steps: 1 - Press on. 2 - Zip off.