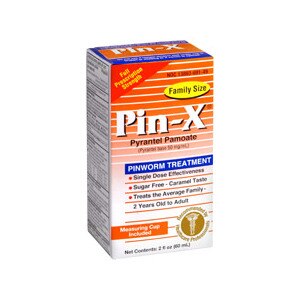 For the treatment of pinworms. Single dose effectiveness. Sugar free - caramel taste. For all ages - 2 years to adult. Measuring cup included.
Each 1 mL: Pyrantel Pamoate 144 mg (Equivalent to 50 mg Pyrantel Base)
Shake well before using. Important - treat the entire household. Take only one dose unless directed by doctor. Under 25 lbs or under age 2, consult a doctor. 25-37 lbs: 1/2 tsp. 38-62 lbs: 1 tsp. 63-87 lbs: 1 1/2 tsp. 88-112 lbs: 2 tsp. 113-137 lbs: 2 1/2 tsp. 138-162 lbs: 3 tsp. 163-187 lbs: 3 1/2 tsp. Over 187 lbs: 4 tsp. Read package insert carefully before using. If signs of pinworms persist, see a doctor.
Keep out of reach of children. In case of overdose, get medical help or contact a poison control center right away. If any of these conditions persist, consult a doctor: dizziness, diarrhea, abdominal cramps, headache, nausea, vomiting. If pregnant or if you have liver disease, ask a doctor before use. Contact your doctor if an allergic reaction occurs.