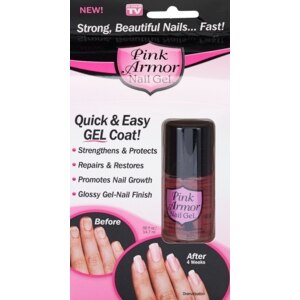 Pink Armor Nail Gel - Repairs, Seals and Strenghtens Nails
Pink Armor Nail Gel
Quick & Easy GEL Coat!

Pink Armor is the thick, protective gel coat that gives you stronger, longer, beautiful natural nails! The protein rich keratin gel penetrates deep down to repair and strengthen, while the optical brighteners make the nail tips look whiter and the nail beds look pinker, brings out your nails' natural beauty for a flaw look. Just one coat, once a week it's like getting a professional nail treatment but without the expensive salon cost!
Pink Armor won't peel, chip or crack and protects against breaking, cracking, splitting and discoloring. Great as a base coat or protective top coat. .5 fluid oz. Buy Pink Armor Nail Gel at the official As Seen On TV store today