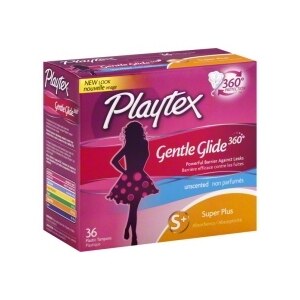 Playtex Gentle Glide Tampons Unscented Super Plus Absorbency
Comfortable protection. Smooth, rounded tip plastic applicator provides comfortable and easy insertion. Ridged fingergrip on the applicator makes it easy to hold, insert and place every time. Convenient disposal-Tampon (not applicator) is flushable and biodegradable. Leakage protection-For over 25 years, women have counted on Playtex for day and night protection (up to 8 hours). Only Playtex has a double-layer design that adjusts to custom fit your body for comfortable protection. Unique design adjusts to custom fit your body for wearing comfort. So comfortable you can't even feel them.
Ship & Save:

Ship & Save Eligible
Rayon, Polyester or Cotton String, Polysorbate-20.
Select the minimum absorbency needed to control your menstrual flow in order to reduce the risk of getting TSS. Every woman's flow differs. Often your own flow will be different from day to day and even from month to month. Choose Super Absorbency for a very heavy flow.
Tampons are associated with Toxic Shock Syndrome (TSS). TSS is a rare but serious disease that may cause death. Read and save the enclosed information.