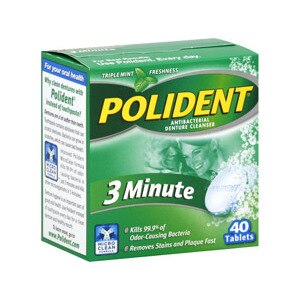 Polident 3 Minute Tablets
Micro clean formula. Improved. Kills 99.9% of odor-causing bacteria. Removes stains and plaque fast. Polident kills bacteria brushing can miss. For your oral health. Why clean dentures with Polident instead of toothpaste? Dentures are a lot softer than teeth. Toothpaste contains abrasives that can scratch dentures. Bacteria can grow in scratches, which can cause bad breath. Improved Polident MicroClean formula kills 99.9% of odor-causing bacteria in just 3 minutes and kills other microorganisms in 5 minutes. Denture hygiene is an important part of good oral health. Use Polident Instead of toothpaste every day for a clean denture and healthy mouth.
Product Type:

Cleansing

Formulation:

Tablets

Quantity:

31-40 CT
Sodium Bicarbonate, Citric Acid, Sodium Carbonate, Potassium Monopersulfate, Sodium Perborate, Sodium Benzoate, PEG-180, TAED, Sodium Lauryl Sulfoacetate, VP/VA Copolymer, Aroma, Subtilisin, Blue 1 Aluminum Lake, Blue 2, Yellow 5 Aluminum Lake, Yellow 5.
For Best Results: Use Polident. Every day. Important: Read all directions before use. For Daily Use: 1. Drop one Polident tablet into enough very warm water to cover denture or partial. 2. After soaking for 3-5 minutes, for best results, brush denture with Polident solution. Discard remaining solution after brushing. 3. Rinse thoroughly with running water. Keep tablets in a cool, dry place.
Keep tablets out of reach of children and elderly needing care. Do not place tablets in mouth. Keep tablet solution out of mouth. Rinse well. Do not use if you are sensitive to any of the ingredients. If you experience irritation due to cleanser use, discontinue and consult a healthcare professional. In case of accidental ingestion, contact a Poison Control Center.