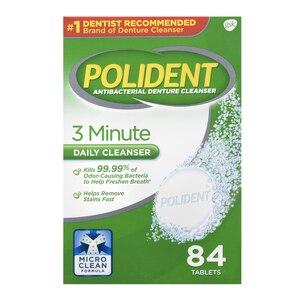 Polident 3 Minute Tablets
Compare & Save
with CVS/pharmacy Brands
Size: 84 TB

$4.79
Cleans tough stains. Controls denture odor. Leaves a clean feeling. Soak every day to keep odor away. For better odor control, use Polident every day! Even if you brush your dentures every day, you're missing something. Brushing alone can miss odor-causing plaque and food particles trapped in crevices. Polident has Poli-Vescent Power, special cleaning agents that family toothpastes don't have, to scrub out what brushing can miss. Use daily for better odor control in just 3 minutes. Polident cleans where brushing can miss! Thoroughly cleans and controls denture odor in only 3 minutes! Kills 99.9% of odor-causing bacteria. Cleans where brushing can miss! Made in the U.S.A.
1. Drop one Polident tablet into enough very warm water to cover denture or partial. 2. Place denture or partial in effervescing solution and soak for 3 minutes. 3. After 3 minutes, rinse denture or partial with running water. Your dentures may be safely soaked in Polident solution overnight. Keep tablets in a cool, dry place.
Caution: Keep tablets out of the reach of children. Do not place tablets in the mouth.