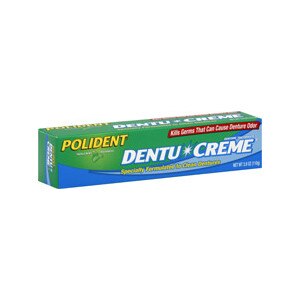 Polident Dentu-Creme, Triple Mint
Triple mint freshness. Kills germs that can cause denture odor. Specially formulated to clean dentures. Gentle on denture acrylic. Dentu-Creme is specially formulated to clean and freshen dentures and partials outside of the mouth.
Water, Dicalcium Phosphate Dihydrate, Propylene Glycol, Calcium Carbonate, Aluminum Silicate, Sodium Lauryl Sulfate, Glycerin, Hydroxyethylcellulose, Flavor, Magnesium Aluminum Silicate, Saccharin Sodium, Methylparaben, Propylparaben, Blue 1.
Daily Use: 1. Remove full denture or partial from mouth. 2. Use warm water to wet denture. 3. Hold denture firmly in hand and scrub thoroughly with Dentu-Creme on a toothbrush. 4. Rinse well. Caution: Clean over a sink half-filled with water to prevent damage if dropped. Store in a cool, dry place.