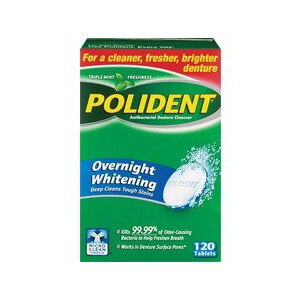 Polident Overnight Whitening Antibacterial Denture Cleanser, Triple Mint
Great everyday value! Overnight whitening. Deep cleans tough stains. Kills 99.9% of odor-causing bacteria and other microorganisms. Micro-clean formula. For your oral health. Why clean dentures with Polident instead of toothpaste? Dentures are a lot softer than teeth. Toothpaste contains abrasives that can scratch dentures. Bacteria can grow in scratches, which can cause bad breath. Improved Polident MicroClean Formula kills 99.9% of odor-causing bacteria and other microorganisms. Denture hygiene is an important part of good oral health. Use Polident instead of toothpaste every day for a clean denture. To learn more, go to www.Polident.com. For best results: use Polident. Every day. Polident kills bacteria brushing can miss. PoliCare. A helping hand through the denture journey. Want to get support, advice and tips on living well with dentures and partials? How about valuable information and special savings? Join MyPoliCare.com - it's free! Become a member now to get exclusive promotions and money-saving coupons. Go to MyPoliCare.com today!
Sodium Bicarbonate, Sodium Perborate, Potassium Monopersulfate, Citric Acid, Sodium Carbonate, Sodium Hexametaphosphate, Sodium Metasilicate, TAED, Sodium Lauryl Sulfoacetate, Sodium Benzoate, Potassium Pyrophosphate, Aroma, VP/VA Copolymer, Subtilisin, Sodium Nitrite, Blue 1 Aluminum Lake, Blue 2.
Important: Read all directions before use. For Daily Use: 1. Drop one Polident tablet into enough very warm water to cover denture. 2. After soaking overnight, for best results, brush denture with Polident solution. Discard remaining solution after brushing. 3. Rinse thoroughly with running water. Keep tablets in a cool, dry place.
Keep tablets out of reach of children and those at risk of accidentally swallowing the tablet or solution. Do not place tablets in mouth. Do not drink cleansing solution or use it as mouthwash. Rinse well. Do not use if you are sensitive to any of the ingredients. If you experience irritation due to cleanser use, discontinue and consult a healthcare professional. In case of accidental ingestion, contact a Poison Control Center.