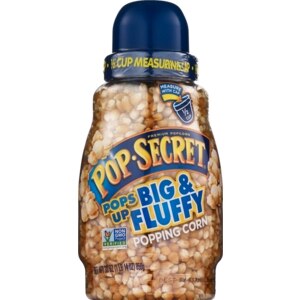 Pop-Secret Jumbo Popping Corn Kernels
Bigger size, bigger taste! 100% natural. Planted in the finest fields, our all-natural, premium popcorn kernels grow into stalks up to eight feet tall, yielding ears of corn full of jumbo kernels. Only available from Pop Secret, our jumbo size popcorn gives you bigger and fluffier kernels, ready to customize and capture all your favorite toppings!
Pop Secret Premium Jumbo Popping Corn.
Stove Top: 1/2 cup popcorn, 1-3 tbsp cooking oil. 1. Pour cooking oil into a heavy 3 quart or larger pan with a lid. 2. Place 3-4 kernels in the oil, cover pan, and turn heat to Medium High. When the first kernels pops, immediately add the remaining popcorn. 3. Shake pan gently over the heat with lid slightly ajar to allow steam to escape. 4. When popping slows to 2-3 seconds apart, remove pan from heat, and carefully pour into a large bowl. 5. Season to taste and add your favorite toppings. Enjoy!