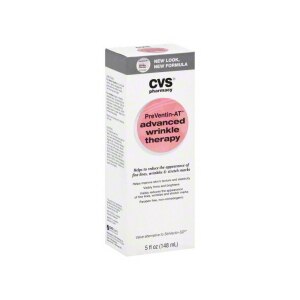 CVS PreVentin-AT Advanced Wrinkle Therapy for Fine Lines, Wrinkles & Stretch Marks
For fine lines & deep wrinkles. Significantly diminishes the appearance of expression lines & wrinkles. No toxic injections. Non-surgical. Concentrated formula. Helps even skin tone. Welcome to the newest dermatological advance in wrinkle care.
Water, Stearic Acid, Acetyl Hexapeptide-3, Glycerin, Cetyl Alcohol, Glyceryl Stearate, Propylene Glycol, Butylene Glycol, Isopropyl Palmitate, Triethanolamine, Polyglyceryl Methacrylate, Palmitoyl Oligopeptide, Cocoa Butter, Hydrolyzed Wheat Protein, Hydrolyzed Wheat Starch, Aloe Barbadensis Gel, Ethyl Macadamiate, Sorbitan Olivate, Dimethicone, Dimethicone Copolyol, Peppermint Oil, Diazolidinyl Urea, Methylparaben, Propylparaben, Mango Butter, Disodium EDTA, PEG-8 Dimethicone & Octyldodecanol & Propylene Glycol & Zea Mays & Tocopheryl Acetate & Cholecalciferol & Retinyl Palmitate & Ascorbic Acid & Pyridoxine HCL & Silica & Sodium Propoxyhydroxypropyl Thiosulfate Silica, Extracts of Cucumber, Green Tea, Grapeseed, Peach, Seaweed, Lemon, Calendula, Gingko Biloba & Ginger.
Apply PreVentin-AT Wrinkle Therapy two to three times daily in areas where fine lines and/or wrinkles appear. Use alone or before applying moisturizer or foundation makeup. As with all facial skin care products, avoid getting into your eyes. After first use, you will notice an immediate improvement in the skin's appearance and texture. PreVentin-AT begins working immediately to leave your skin soft and youthful. Results will continue to improve with use. Store at room temperature.
For topical use only. Test PreVentin-AT in an inconspicuous part of your skin before beginning regular use. If extreme redness/rash or itching occur, discontinue use. For external use only. Avoid contact with eyes. Not for use on children under the age of 18 unless directed by a doctor. Use only as directed. Keep out of the reach of children.