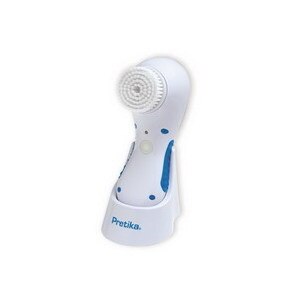 Pretika Sonic Dermabrasion Facial Brush Model ST255A
Exfoliate, cleanse and smooth. Sonic high frequency micro-pulsating technology. Use separately or in combination with daily beauty routine - prepares the skin to better absorb skin care treatments. Advanced brush head technology - for delicate, sensitive and normal skin types. Adjustable Power Levels: low - gentle care, keep skin firm; high - penetrating exfoliation. Cleans so effectively for healthier skin. Merging science with skin care. Water-resistant for use in the shower or bath tub. Cordless design for better control. Built-in timer signals at 20 second intervals to encourage a more complete cleansing. Charger Charging cradle (120V) & built-in rechargeable Ni-MH cell battery. Adjustable power levels: Low green light setting for gentle exfoliation and high red light setting for a deep penetrating exfoliation and cleansing. Advanced brush head technology: Non-porous and bacteria resistant micro-fiber bristle brush applicators designed for delicate, sensitive and normal skin types. CE listed. UL listed. Made in China to Pretika quality standards. The Pretika Sonic Dermabrasion Facial Brush includes 2 brush heads.
Use daily to remove the Epidermal (outer) layer of dry and flaky skin cells and reduce the appearance of fine lines and wrinkles so your skin feels smoother Gentle enough for use as part of your daily beauty routine. Also helps reduce appearance of pores, oily areas, dry skin patches and blemishes.
For external use only - keep out of reach of children - please be sure to use as directed. Avoid contact with eyes. As with any product, discontinue use if rash, redness or itching occurs. Consult physician if irritation persists.