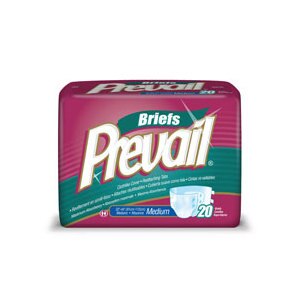 Prevail Briefs Medium Waist Size 32-44 Inches Super Absorbent Case
Due to health and safety concerns, this Home Health Care product cannot be returned either to CVS. com or CVS stores, and no refunds can be issued for this item. Provides a soft, stay-dry top sheet that absorbs fluid quickly for greater comfort and reduced skin irritation. Soft, gentle elastic waist: front and back. Super absorbent polymer filler: strategically placed; provides protection where it's needed most; improves odor control. Wetness indicator: (on plastic back sheet) changes color when brief is wet. Tape tabs: refastenable tapes.
with tape in back, position brief between legs and pull up snugly to body. Position brief at waist level. Fasten bottom tapes first, followed by waist tapes. Brief should fit like underwear - snugly, but comfortably. Disposal: Wrap brief securely inside its plastic back sheet and dispose of in a sanitary manner. Do not flush.
To avoid danger of suffocation, keep plastic bags away from babies, children and pets. Bladder control problems may be caused by conditions which can be treated medically. Please consult your physician for professional advice.