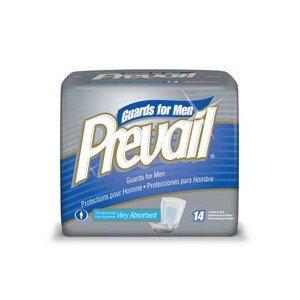 Prevail Male Guards Very Absorbent 6 - 13 Inches Case
For bladder control. Extra absorbent layer in center: Added protection to absorb fluid quickly and reduce odors. Leakage barrier: Helps prevent leakage. Adhesive strip: Holds guard securely in place. Contoured Design: To fit the male anatomy. Made in USA.
1. Peel off paper strip 2. Place cupped end of guard toward crotch (or back) of underwear. The top edge of the guard should be near the front of waistband. 3. Press guard into underwear, adhesive side down. 4. Pull underwear up into place and adjust the cupped end so it cups the testicles. 5. Dispose of soiled guard in a sanitary manner. Do not flush.
To avoid danger of suffocation, keep plastic bags away from babies, children and pets. Bladder and bowel incontinence problems may be caused by conditions which can be treated medically. Please consult your physician for professional advise.