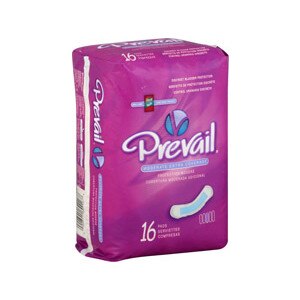 Prevail Pads Feminine Moderate Long
Discrete bladder protection. 1. Moderate absorbency with extra coverage for excellent leakage protection in a thinner, dual layer pad. 2. Quick Wick layer pulls and locks away odor and moisture for comfort and discreet protection. 3. Side shields for added protection. 4. Cloth like backing for more comfort with less noise. Contoured, discreet pad for a comfortable fit. Individually wrapped. Made in USA.
To avoid risk of suffocation, keep plastic bags away from babies, children and pets. Bladder control problems may be caused by conditions which can be treated medically. Please consult your physician for professional advice.