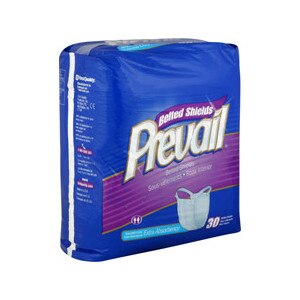 Prevail Undergarments Belted Extra Absorbency Case
Fast absorbing core and Quick Wick strip rapidly pull and lock away moisture and odor. Cloth-like outer fabric is more comfortable and quieter with movement. Reinforced buttonhole. Secure: Elastic belts provide a snug fit. Fits hip sizes up to 60 inches. Latex free. Made in USA. 4 packages of 30 count.
1. Button the elastic belts into the button holes. Be sure padding is to the inside. 2. Pull undergarment up against your body, like underwear. Disposal: Remove belts and roll up compactly. Dispose of in a sanitary manner. Do not flush.
To avoid risk of suffocation, please keep plastic bags away from babies, children and pets. Bladder control problems may be caused by conditions which can be treated medically. Any incontinence product, including underpads, should be changed immediately after fecal episode. Please consult your physician for professional advice.