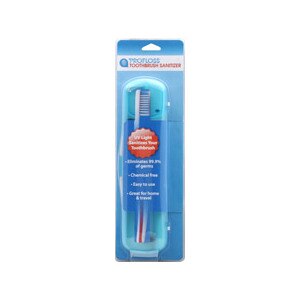 ProFloss Toothbrush Sanitizer
UV light sanitizes your toothbrush. Eliminates 99.9% of germs. Chemical free. Easy to use. Great for home & travel. A toothbrush is home to microorganisms that carry colds, flu and streptococcus that rinsing won't destroy. Fight back with this easy-to-use UV cleaner. This battery powered sanitizer eliminates 99.9% of germs in eight minutes using ultraviolet light then turns off automatically. Just close the lid and ProFloss Toothbrush Sanitizer goes to work! Simply place brush with bristles facing the light bulb and snap lid to close. The UV light will illuminate to destroy germs. Keep your toothbrush safe and clean until you're ready to use it again. Powered by 2 AAA batteries (not included). Professional Features: Chemical-free; Uses germicidal UV light technology; Several minutes to kill germs and bacteria up to 99.9%; Eliminates E. Coli, Salmonella and other harmful micro-organisms; Kills germs by destroying the DNA in Bacteria; Doubles as a sanitizer and a holder; Healthier way of transporting your toothbrush; UV light never needs replacing. Made in China.
Easy to Use: Face brush head towards the UV light. Close top and sanitizing automatically begins. Turns off automatically after 6-8 minutes. Your toothbrush is now fully sanitized.