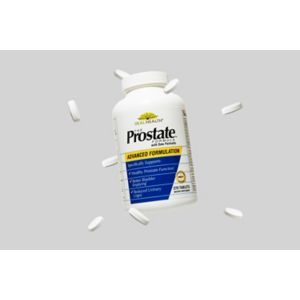 Dietary Supplement. Now with vitamin D & ginger! Advanced formulation. Specifically supports: healthy prostate function, healthy prostate size, free urinary flow, healthy sex life. Laboratory tested quality. Bioglan - serious health. One of the leading health issues for adult men is prostate health. Statistics show that 90% of men develop an enlarged prostate during their lifetime, some as early as age 40 (University of Pennsylvania Health System at http://www.pennmedicine.org/encyclopedia/em_DisplayArticle.spc?gcid=000381&ptid=1). As men age, prostate problems may increase, so it is important for men of all ages to take prostate health seriously (National Health Institute on Aging at http://www.niapublications.org/agepages/prostate.asp). Long-term prostate health begins with a proactive approach to good health and recommended daily use of The Prostate Formula. This unique and comprehensive blend of whole herbs, vitamins, amino acids and zinc. Now with pomegranate and quercetin which naturally supports healthy prostate function. Doctor developed and trusted by physicians and pharmacists since 1994, The Prostate Formula continues to be the best selling prostate formula in drugstores today (IRI Drug, Prostate Category, 52 weeks ending December 2011). Quality. Safety. Reliability. The Real Health name guarantees that The Prostate Formula is produced using the highest manufacturing standards. Real Health stands behind every box of The Prostate Formula that you purchase. Accept no imitations for The Prostate Formula. Visit us at www.realhealthlabs.com. 100% satisfaction guaranteed. (These statements have not been evaluated by the Food and Drug Administration. This product is not intended to diagnose, treat, cure or prevent any disease).
Other Ingredients: Calcium Carbonate, Microcrystalline Cellulose, Hypromellose, Croscarmellose Sodium, Titanium Dioxide, Corn Starch, Hydroxypropyl Cellulose, Polyethylene Glycol, Magnesium Stearate, Stearic Acid, Peppermint Oil, Microfine Wax, Polysorbate 80 NF, Silicon Dioxide.
Recommended use: As a dietary supplement, recommended use is 3 tablets per day with food (or as recommended by a physician). As with many supplements, regular use is recommended to maximize good health. You may begin realizing some benefits within a very short time, however, it is important to take The Prostate Formula for at least 60-90 days to obtain optimal benefits. Storage: Product should be stored in a cool, dry place away from direct light and heat. Keep bottle capped when not in use.
Allergy Information: This product contains milk (vitamin D3 [lactose]), fish (fish gelatin [type: cod, pollock, haddock, hake, cusk, redfish, sole, flounder]). Manufactured on the same equipment that processes tree nuts, wheat, peanuts and soy. If you are receiving medical treatment for a prostate problem or experiencing symptoms, such as painful, frequent or difficult urination, consult your physician. This product is intended solely for use as a dietary supplement. It does not eliminate the need for regular prostate examinations by a physician. If you are presently under treatment for any medical condition, or are taking prescription medication, consult your physician or pharmacist before taking this or any dietary supplement. Keep this and all dietary supplements out of the reach of children. Side Effects: The ingredients in The Prostate Formula have been used safely for years to nutritionally benefit prostate health and overall well-being. Occasionally, minor stomach irritation occurs, which can usually be alleviated by taking this product with food. If you do experience side effects you believe are associated with The Prostate Formula, discontinue use of the product immediately and contact your physician and Real Health Laboratories. Tamper Evident Packaging: Do not use if seal is cut, torn, broken, or missing.