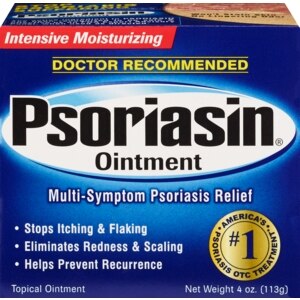 Topical ointment. Doctor recommended. Stops itching & flaking. Eliminates redness & scaling. Helps prevent recurrence. No. 1 America's psoriasis OTC treatment (based on independent syndicated market research data). Quality national brand. Won't stain skin. No lingering odor. Coal tar in Psoriasin Ointment slows down the excessive skin cell production that is the root cause of psoriasis symptoms. No other FDA compliant non-prescription drug ingredient works this way. The active ingredient in Psoriasin has been recognized to be safe & effective by an FDA Expert Advisory Panel, when used as directed.
Active Ingredient: Coal Tar (2%) (from Coal Tar Topical Solution, USP). Inactive Ingredients: Ethanol, Petrolatum, Polysorbate 80.
Read all package directions and warnings before using. Use only as directed. Apply (gently massage in) a small amount of Psoriasin to affected areas. Apply one to four times daily or as directed by a doctor. Apply to thoroughly dry skin. The active ingredient, coal tar, in Psoriasin Ointment may affect very light hair color; test first on a few strands of hair before broader application to areas where light colored hair is present. Wash affected areas at least daily with mild soap and warm water and dry thoroughly. Intended for use by normally healthy adults only. Persons under 18 years of age or those with highly sensitive or allergic skin should use only as directed by a doctor. Keep tightly closed when not in use. Store away from excessive heat and cold.
For external use only. Ask a doctor before use for prolonged periods; if condition covers a large area of the body; around the rectum or in the genital area or groin; with other forms of psoriasis therapy such as ultraviolet radiation or prescription drugs. When using this product avoid contact with eyes. If contact occurs, rinse eyes thoroughly with water. Stop use and ask a doctor if condition worsens; condition does not improve after regular use of this product as directed. Use caution in exposing skin to sunlight after applying this product, as it may increase your tendency to sunburn for up to 24 hours after application. This product contains chemicals known to the State of California to cause cancer. Keep out of reach of children. If swallowed, get medical help or contact a poison control center right away. Serious side effects associated with the use of this product may be reported to 1-800-792-2582.