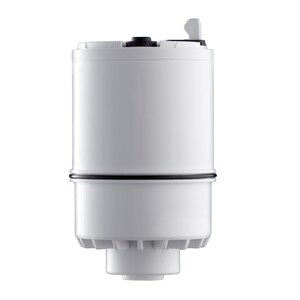 PUR Faucet Mount Replacement Water Filter RF-3375-1
Enjoy healthy, clean water with our Basic filtration. Our unique, premium carbon water filter is certified to reduce lead, mercury, chlorine (taste and odor) and many other contaminants. It also removes 99% of trace levels of pharmaceuticals.* Yet it still leaves behind beneficial fluoride. Enjoy clean, great tasting water right from your tap.
Provides up to 100 gallons of crystal clean water, Enjoy 2-3 months of clean, great-tasting drinking water straight from your own faucet, Easy-to-change, and fits any PUR Faucet Filter
* Pharmaceutical reduction is not certified by NSF/ANSI or state standard. Based on manufacturer testing for average reduction in trace levels of 12 pharmaceuticals. Pharmaceuticals may not be in all users' water.
Easy replacement: 1. Unscrew cap and remove filter. 2. Insert new filter. 3. Replace cap and run water for 5 minutes. Get the best from your filter. For best performance, change your filter every 3 months.